Construction Sciences delivers engineering support services including construction materials testing, geotechnical engineering, environmental consulting and specialised testing for major infrastructure projects.
We are trusted by construction and engineering companies to deliver accurate results critical to the design and construction of bridges, dams, airports, mines and rail infrastructure. As Australia's largest provider of Construction Materials Testing (CMT), our team of experienced technicians provide clients with prompt turnarounds of large volumes of tests, accurately.
With a multi-disciplinary team of 950 technicians, geotechnical engineers and environmental scientists, we deliver services from planning to project completion from more than 50 laboratories across Australia and New Zealand.
Construction Sciences is part of Kiwa, a global leader in assurance, testing, inspection and certification, training, consultancy and data services.
1990
Bowler Geotechnical
David Bowler establishes a construction materials testing (CMT) firm providing geotechnical engineering support, in Brisbane, Australia.
2005
Bowler Geotechnical
Through a franchise business model, the firm experiences strong growth and becomes specialists in major infrastructure projects. Environmental consulting is also introduced as a service.
2008
Cardno Bowler
Cardno Limited acquires and rebrands the firm.
2013
Cardno Construction Sciences
The brand is further refined and acquires Geotech Materials Testing Services, a market-leading CMT provider in WA.
2014
Cardno Construction Sciences
Acquisition of Cardno Utility Engineering Group (formerly Australian Underground Services).
2015
Cardno Construction Sciences
Expansion to the US after winning the Corpus Christie LNG project with Bechtel. The firm also obtains all Australian Holcim testing facilities under a National Supply Agreement.
2017
Construction Sciences
Progresses to become a separately managed portfolio company owned by Cardno. Acquires Network Geotechnics, a CMT and geotechnical firm in NSW.
2018
Construction Sciences
Acquisitions of Trilab; a specialised market leader in soil and rock testing, and SureSearch; a utilities management and coordination provider based primarily in NSW.
2019
Construction Sciences
The company demerges from Cardno and becomes part of Intega Group Ltd. Also acquires Brisbane based petrographic analysis firm, Geochempet.
2021
Construction Sciences
Intega is delisted from ASX and acquired by Kiwa. Now known as Kiwa Group Pty Ltd.
At Construction Sciences we value our people, which is why we have some of the most experienced in the industry as part of our team. Our long history in both metropolitan and regional areas has allowed us to retain these key staff, many of which are now within our leadership team.
Our health & safety management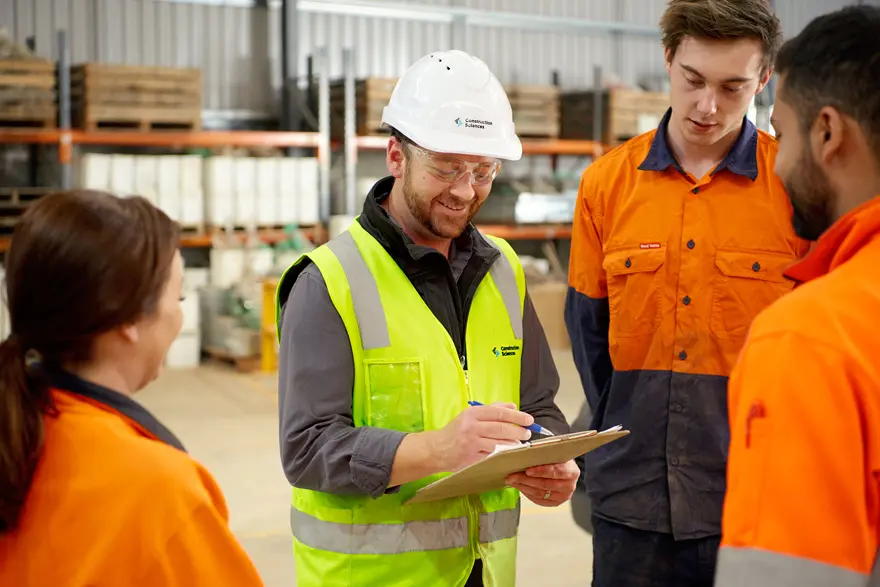 Construction Sciences strives to ensure health, safety and environmental (HSE) responsibilities are embedded in daily activities through programs such as WATCH (What Are The Consequences Here). These initiatives, combined with online training and incident management systems, ensures staff can identify key risks at all times.
We strive to conduct our business in a way that protects our people and clients from harm, with so far more than 3000 hazards eliminated. Our global incident management system, Safety Mate is designed to create a safer workplace, and is relied upon to report all hazards, incidents and near misses.
Our Construction Sciences Health and Safety Management System is accredited to ISO 45001 (occupational health and safety), which is our commitment to raising awareness & implementing safety systems, to maintain zero harm in the workplace.
Construction Sciences aims to achieve positive environmental impacts by utilising emerging technology and industry best practice, combined with our existing expert knowledge.
We believe that ensuring a safe environment for our people, clients and the communities we affect should come first. Through the Construction Sciences Zero Harm Every Job, Every Day Goal, our employees are committed to delivering outcomes that will ensure long-term sustainability as an environmentally and socially responsible business.
Our operations will eliminate, or where impractical, minimise harmful effects on urban and natural environments in line with statutory and company requirements. We continuously evaluate company practices to improve environmental performance through environmental management systems.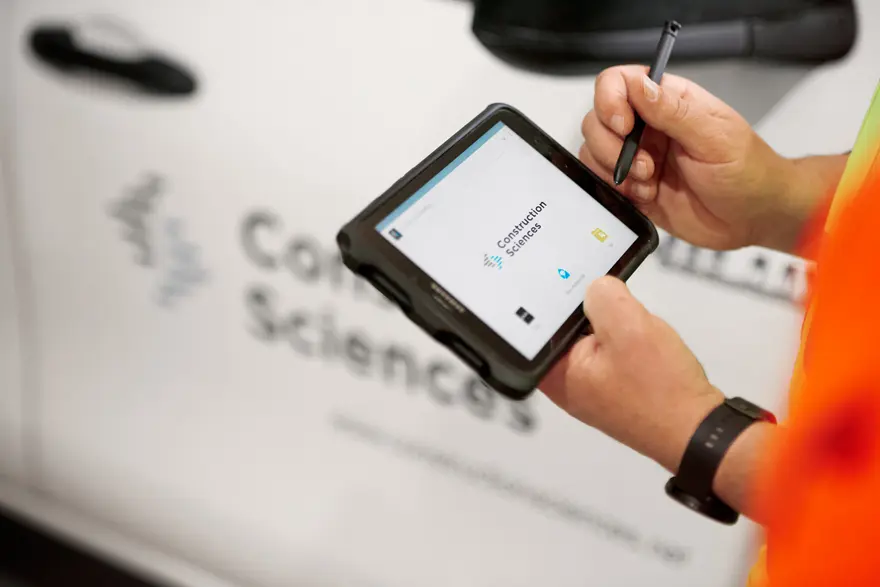 At Construction Sciences, quality is a priority that we don't compromise. Our mission is to provide quality outcomes for all of our services, whilst ensuring safety is continuously upheld and developed. Our Quality Management System is certified to AS/NZ ISO 9001 and is implemented through the following key strategies:
Meeting our clients needs as we comply with all of their project requirements.
Strict adherence to our QMS based on the requirements of ISO9001. We focus on customising solutions for our clients needs, whilst minimising risk first and foremost.
Recruitment and retention of the right qualified people, with proven work skills.
Enhancing the professional development of our staff.
Leadership styles that promote positive attitudes, personal and technical development, and rewards for effort, integrity and initiative.
Maintaining our SAI Global Certification ISO 9001, ISO 45001, AS/NZ ISO 14001, and NATA AS ISO/IEC 17025 accredited laboratories.
Our Quality Assurance software is a custom made system, allowing us to deliver fast, industry standard testing at the highest level.